If Not Now, When?
The True Story of Sol Nayman
Written and Illustrated by Rebekah Lower
For the series A BOOK by ME - True Stories Written by Kids for Kids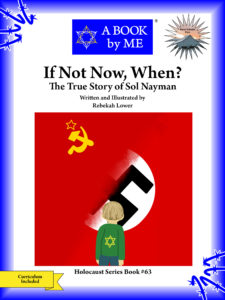 I met Holocaust Survivor Sol Nayman in October of 2022 and immediately realized he was a brilliant communicator. I began talking with Kimberly Woods, a curriculum leader in Davenport Iowa about his speaking to students via Zoom. The result was his sharing his story and an overview of the Holocaust with 1,000 eighth graders in Iowa. He did such a wonderful job that we want him to do it again this year and we hope to grow his audience exponentially.
My next step was preserving his story for young readers. I met a writing coach who had been referred to me. She recommended a student who was already passionate about teaching the Holocaust. The student's name is Rebekah and she decided to both write and illustrate this story. Reading some of Sol's writings in advance, I was so moved to see that she created an illustration with a rocking horse. I knew that would touch Sol's heart since it was the only toy he knew as a child. And it did. He mentioned it when he got the first glimpse of the book. I've been working with young authors and subjects from WWII for over 20 years now and it never gets old to see the students do special little things like this to make the story just a little more special for their subject.
Sol's story serves as a reminder of the consequences of hatred, bigotry and the erosion of human rights. By having students in the classroom read stories like Sol's, we begin to foster a commitment to tolerance, respect and the protection of rights for all individuals regardless of their race, religion or background. Learning about the Holocaust gives insights into the consequences of hatred and the importance of actively working towards a more respectful world. Kudos to author Rebekah Lower and her A BOOK by ME writing coach Teacher Lisa LeConte.
– Deb Bowen, Creator A BOOK by ME
---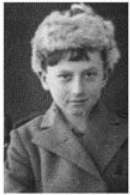 Sol Nayman was born in Poland during the calm before the storm which preceded World War II. He went on the run with his family when he was only four years old, after the Nazis invaded their hometown and burned it down. Sol and his family found a kind of refuge in the Soviet Union, surviving for years in harsh labor camps and beating the odds of survival that many others succumbed to.
After the end of the war, Sol moved to Canada. He eventually married the love of his life, had children and grandchildren and worked for decades as a successful businessman. Sol spends his time now working tirelessly to bring awareness to the history of the Holocaust, sharing lessons learned with the next generation.
Author and Illustrator Rebekah Lower brings the story of this incredible survivor to life in this book for the younger generation.
---
"I feel very fortunate to have worked with Sol to write his story; I am taking part in helping the last generation of Holocaust survivors give their first-hand accounts. Recently, Sol returned to the village he escaped from on the fateful night when the Nazis attacked. He is now the only living Jewish survivor from that village. When interviewed about this visit, Sol had one request for this generation: "We're counting on you to absorb as much as you can and to do something about it."
I want to be able to tell his story in a way that people will learn from the mistakes of our past, so that something like the Holocaust will never happen – never again." — Rebekah Lower Author/Illustrator
If Not Now, When? The True Story of Sol Nayman – available on Amazon >>
---
Salomon Najman
Jewish Holocaust Survivor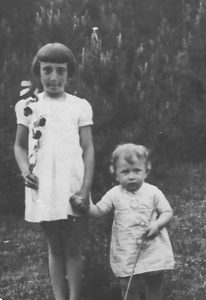 Sol Nayman was born Salomon Najman on November 5, 1935. He lived with his mother, father, grandmother, and older sister, in Stoczek Wegrowski (Stok), Poland. Like many of the other citizens of Stok, 1,000 of whom were Jewish, Sol and his family lived in a wooden shack. Although Sol's family was Jewish, not much religion was practiced in his household. Sol's grandmother had a food stand in front of the house from which she sold food to help the family earn money.
When the Nazis and Soviets invaded Poland on September 1, they laid waste to many towns along the way. Sol and his family fled to the forest to escape the oncoming soldiers. Sol's grandmother returned to Stok after hearing that the hospital was on fire, wanting to help in any way she could. They never saw her again.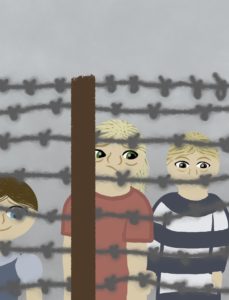 After the rest of the family escaped, they arrived in Bialystok, close to the Belarus border. The town became a refuge for Jews wanting to escape the Germans. The Soviets allowed families to enter their borders if they went where they were told, so Sol and his family were put on a train and shipped into the Soviet Union. They and other families were packed into filthy cattle cars with no food or water on board, and a hole in the floor to serve as a toilet. They traveled by train for several weeks until they arrived in Syktyvkar, their first labor camp.
Syktyvkar was just south of the Arctic Circle, where winter seemed to last eight months. Immigrants like Sol's family were put to use building lumber factories and housing barracks. The family was housed in one of the barracks with another family, a couple whose last name was Mida. Six people shared one tiny room with no running water or electricity, and they had to burn dried cow dung for heat. They were the lucky ones—many people without rooms just squatted in the corridor outside. One such person was, incredibly, Sol's cousin Moishe, so he was brought in to live with Sol's family.
There was no insulation in the barracks, making winters brutal. The place was overrun with huge rats, and someone had to stay up all night to fend them off with a broom. Their only sources of food were ration coupons, and people would often have to stand in line for hours just to get stale bread. If a family had a child, they might earn a bit more, so Sol was often used by his family and the Midas to earn a little extra to eat.
Sol's father worked out of town, and Sol was tasked with bringing him his rationed lunch—a bit of watery soup and stale bread—by walking through a dark forest inhabited by wolves every day. Hunger was Sol's constant companion, and he even took to digging through garbage bins in search of a little extra food. There was no sanitation, and people were dying daily from hypothermia, and rampant diseases such as typhus and malaria. When Mrs. Mida got an infection from a splinter, she soon died because there was nothing to treat it with.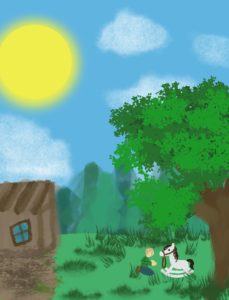 The Soviets made sure to take good care of the children, hoping that they would grow to be good communists. Sol and his sister, Mania, went to school, where Sol learned Russian and was taught proper political songs and stories. Two years later, he was made "Chief of Staff of the Pioneer Troupe." Moishe, Sol's cousin, managed to trade some silver pieces from his parents' wedding on the black market for a gold coin, which was then sewn into Sol's sleeve to keep it safe, as the soldiers rarely bothered children.
After over four years of barely scraping by in Syktyvkar, the family was transported to the decimated area of Ukraine, where most factories had been burned out when the Soviets retreated years earlier. The parents, along with other workers, were assigned to rebuild a burnt-out sugar beet factory. While they were there, they befriended a family named Moglia, who were very kind to them. Mania and Sol still went to school. One night, Sol's father was trying to move the kerosene lamp near Sol's bed and dropped it. The straw mattress caught on fire, and Moishe pulled Sol out of the flames. He and Sol's father stamped out the flames, averting a disaster.
After the war ended, the Soviet government required that any immigrants who remained would have to become Soviet citizens, so Sol and his family left. They traveled over 3,000 kilometers by train until they arrived in their first displaced persons home—an apartment originally occupied by the family of a Nazi SS offcer. While they were there, Sol studied Polish and went to a proper school. They also found their cousin Isser, who came to live with them. Sol studied Hebrew and learned Jewish prayers for the first time. In the summer of 1946, they were sent to West Germany. They heard a rumor that they should get rid of any paper or documents that could be linked to the Soviets, so Sol and his family burned any they had, even though the authorities never checked them.
Sol and his family were eventually sent to a tent city that was hot and unsanitary. Everyone in the family, except for Sol, had to be hospitalized for heat exhaustion. But they survived and moved to a much nicer camp in a former Nazi SS Camp. They stayed there for over three years, and life was reasonably good. It was in places like that where Sol and his family learned about the events of the Holocaust, including the terrible things that the Nazis had done to Jews. Sol felt that he could not identify himself in the same way as them.
As time went by, the family began to plan where they would go next. Sol had an uncle who lived in the U.S., but even with his help they could not immigrate to the United States. So, through a series of events and using that special gold coin that was sewn into Sol's shirt years before, Sol and his family arrived in Canada in October of 1948. From there, they started their new life.
Sol's story focuses on surviving in the Soviet Union where 2.5 million Jews were killed in what he refers to as the 'Parallel Holocaust'. Today, Sol has made it his mission to educate the next generation about the Holocaust, so that no one will ever forget.
---
A BOOK by ME, a book series developed by Deb Bowen, empowers students to preserve history by telling the story of unsung heroes in our communities. For the young participants, it's a guided cross-curricular project that gathers stories of people who do amazing things but have received little or no recognition. Students learn how to publish a picture book that is a primary source document with photographs and a biography.
Since 2003, Deb Bowen has been arranging meetings between students and individuals from the WWII generation. This intergenerational storytelling results in unique storybooks written and illustrated by kids for kids in the A BOOK by ME series.